VISA REQUIREMENTS:

The cost of one entry visa for all nationalities is JD 40 (approximately $56) and for multiple entries it is JD 120 (approximately $170).

Groups of five persons or more arriving through a designated Jordanian tour operator are exempted from all visa charges.

Certain nationalities require that any entry visa be obtained prior to travel. It is recommended that you check with the Jordanian diplomatic mission in your country prior to travel to ensure that you have all the necessary paperwork for travel.

General Information & Advice

AMMAN:

The capital of

Jordan

, is a fascinating city of contrasts; a unique blend of old and new, ideally situated on a hilly area between the desert and the fertile

Jordan

valley.

In the commercial heart of the city, ultra-modern buildings, hotels, restaurants, art galleries, and boutiques share the streets comfortably with traditional coffee shops and artisans' workshops. There is evidence of the city's much older past everywhere you turn...

Amman & The North Region

MADABA:

Is one of the most memorable town in the Holy Land. Dubbed "the city of mosaics", Madaba offers many sites to explore. Amongst them the chief attraction – in the contemporary Greek Orthodox church of St. George - is a wonderfully vivid, 6th century byzantine mosaic map showing Jerusalem and other holy sites.


With two million pieces of coloured stone, and a full 25X5 meters in its original state – most of which can still be seen today – the map depicts hills and valleys, villages and towns, as far away as the Nile Delta.



Central Region

PETRA

:

Often described as the eighth wonder of the ancient world, it is without doubt Jordan's most valuable treasure and the greatest tourist attraction. It is a vast, unique city, carved into the rock face by the Nabataeans, an industrious Arab civilization who settled here more than 2000 years ago, turning it into an important junction for the silk, spice and other trade routes that linked China India, and southern Arabia with Egypt, Greece, and Rome.

The South Region

DANA NATURE RESERVE:

Just north of Petra, covers 308 square killometres and is a world of natural treasures. Managed by the Royal Society for the Conservation of Nature (RSCN), it is composed of a chain of valleys and mountains which extend from the top of the Jordan Rift Valley down to the desert lowlands of Wadi Araba. The visitor to this area will be awed by the beauty of the Rummana Mountain, the mystery of the ancient archaeological ruins of Feynan, the timeless serenity of Dana Village and the grandeur of the red and white sandstone cliffs of Wadi Dana.

Jordan's Nature Reserves


The Hashemite Kingdom of Jordan
Land of Great Beauty
"Ahlan wa sahlan" – Welcome!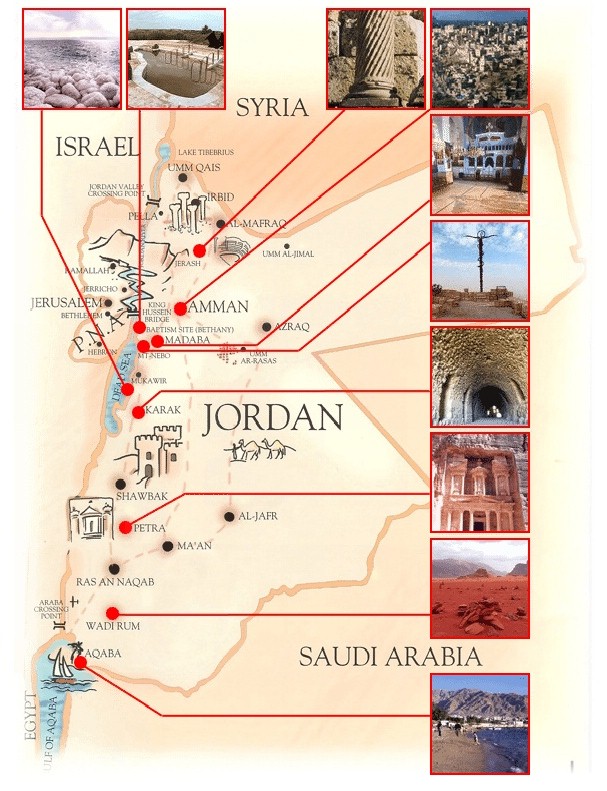 Welcome to the
Hashemite
Kingdom
of
Jordan
.
Jordan
is called "Hashemite" because its monarchs are descended from the Prophet Mohammad [Peace Be Upon Him. PBUH]
After the First World War,
Jordan
was ruled by King Abdullah I. His grandson, His Majesty the Late King Hussein, ruled for 46 years until his death in 1999. He was succeeded by his oldest son, the present monarch, His Majesty King Abdullah II.
Jordan
has grown into a modern nation which, in recent decades, has enjoyed a remarkable measure of peace, stability and economic growth. Part of the reason for this peace and stability in a troubled region, is that
Jordan
does not have anything that anyone else wants. Its chief export is potash. Its greatest dollar-earner is tourism. Although
Jordan
well deserves to be on tourist map, the industry is nevertheless fragile. Surrounded as it is by trouble-spots, problems in neighbouring countries can sometimes influence people's decisions about their holiday destinations. However, those who come to
Jordan
cherish their holidays here. Why?
Jordan
is a well-travelled bridge between sea and desert: east and west. The Hashemite Kingdom of Jordan is a land of breath-taking beauty and contrasts. From the
Jordan
valley, fertile and ever-changing, to the remote desert canyons, immense and still. Visitors can explore splendid desert castles, gaze in awe at the haunting wilderness of Wadi Rum, walk the streets once walked by the ancient Nabbateans in
Petra
, bathe in the restful waters of the Red
Sea or float on the health-enhancing waters of the
Dead Sea
.
For adventure lovers, there is horse riding, cycle tours, 4X4 safaris, rock climbing, canyoning, and hiking. For pure relaxation, nothing on earth compares to the Dead Sea and its many spa facilites.
Programed & Designed by Gogies.net